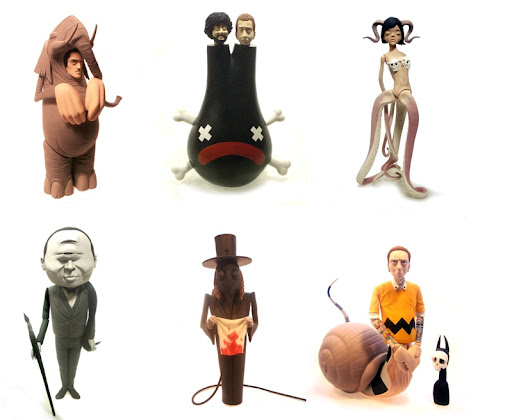 ✖
mike leavitt
"U.S. artist
Mike Leavitt
is the CEO, sole employee, and manufacturing machine of
Intuition Kitchen Productions
: a one-man company of fine craft, sculpture, portraits, painting, performance, education, architecture, and animation.
An extreme boredom for "normal" art has pushed Leavitt into a variety of undefinable projects that cross between art and product, from ornate objects to curio kitsch. Since quitting Brooklyn's Pratt Institute of Art as a freshman with a 4.0 GPA in 1997, Leavitt has been busy.
Leavitt's "Art Army" action figures are hand-made one-off "toys" depicting the surly band of marauders that'll one day take over the earth. Spanning a range of historical subjects from Van Gogh to Tupac, Leavitt has stop-motion animated the articulating figures into movie shorts. The figurative format also shifted to include custom wedding cake toppers, now a lucrative side-project.
His "Hip Hopjects" are nostalgic throw-backs to '80's ephemera, with classic shoes, tapedecks, and other accoutrements replicated to exact specifications with cardboard, brown paper bag, and other such trash found in the street.
The "Penny Places" are an ongoing series of "lucky" pennies (U.S. 1-cent coins) found in the street, painted with tiny landscapes to depict the exact location where the penny was found. "ArtCards" are Leavitt's hand-drawn trading cards of artists, sold in wrapped packs with a stale old crumbly piece of bubble gum.
His Barack Obama artwork, from a portrait in marshmellow peeps to an elaborate action figure satire, toured Leavitt from a "Manifest Hope" contest winner's circle to a massive political event in Rome, Italy just before Election Day 2008.
He's been commissioned for custom work from Italy, Israel and all over the U.S. Leavitt is represented by galleries in London, New York, Los Angeles and Seattle. He has work in the collections of actress Geena Davis, Nike President Mark Parker, and in notable book publications such as Dot Dot Dash: Designer Toys, Action Figures and Character Art by Gestalten press in Germany. He comes from a conceptual art background, with many generations of interactive performance art, motorized sculpture, and multi-sensory installations from his younger days. His concern for craft and hard labor has served Leavitt in several self-designed architectural projects, including a set of "Portable Homeless Shelters" built from recycled materials used in the Seattle area since 2001.
Whether it's intricate miniatures or industrial-grade objects, Leavitt loses interest too easily to add more crap to a square-edged world."(
mike leavitt
)
✖
mike leavitt