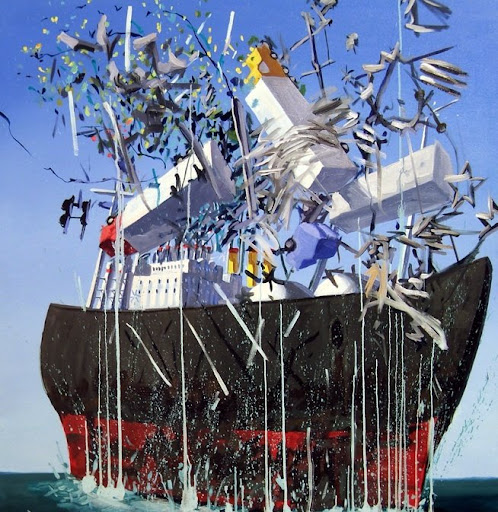 Ben Grasso
Born in 1979, Cleveland, Ohio
Lives and works in NY.
"Ben Grasso, like many contemporary painters, takes decay as his subject matter, but unlike those painters (often eager to watch the world burn), Grasso seems to follow the enthusiasm of his brushstrokes and the buoyancy of his color into realms laced with whimsy and imagination. His houses are in shreds and crumbling, you see a white flag of surrender, he dashes off a couple of shacks in the jungle, but Grasso doesn't believe that these ruins denote the end of things — flickers of light shimmer and whirls of white burst into the air.
The strongest work in show is American Oblique, 2008, a fascinating mixture of Ed Ruscha's palindrome paintings, the Hudson River School, and maybe a touch of the Wizard of Oz. A house floats up and out of the canvas, twirled and pulled apart by planes circling around through its wreckage. It is hard to believe that plane wreckage can come across as charming and delightful but this is exactly what Grasso has accomplished. Though this house (maybe a home even) is coming apart, there's no threat here, not a trace of dread. This is somehow, in spite of itself, a joyful exercise.
-Ed Schad for ArtSlant" (
Ben Grasso news link
)
++
Ben Grasso