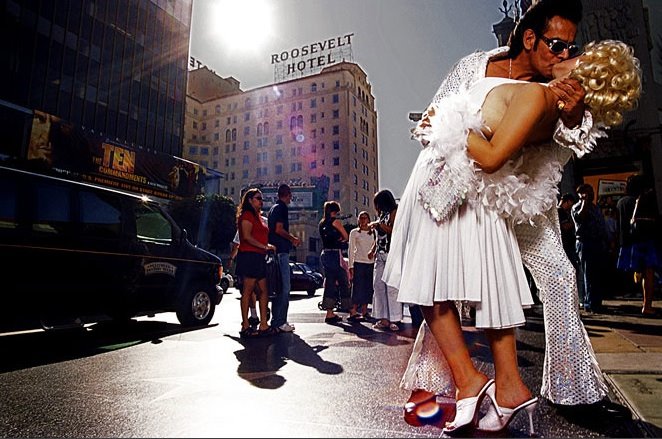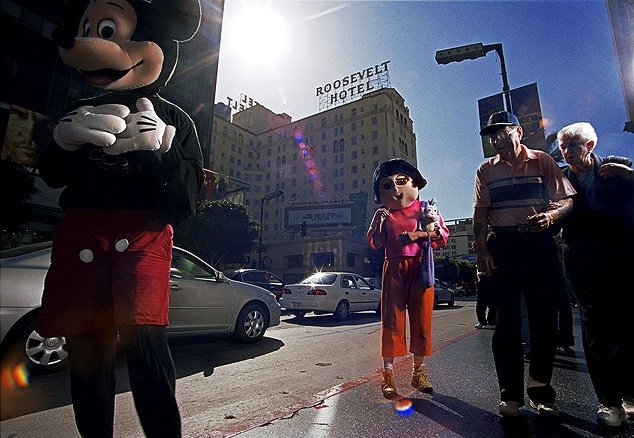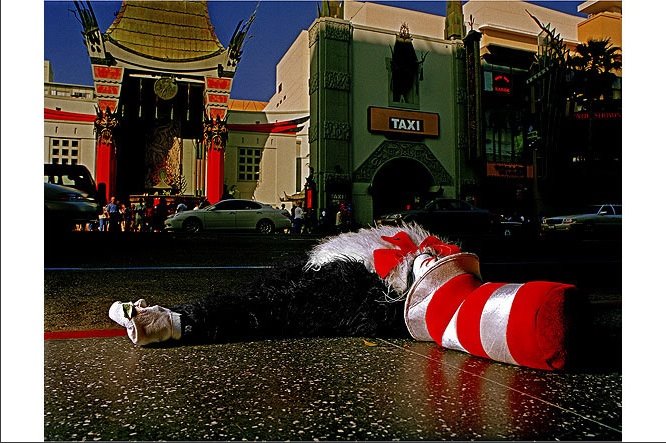 This series of pictures called SuperFamous depicts the people dressed as Hollywood characters that hang around Hollywood's walk of fame.
"I try to capture the energy of a person who is being true to themselves. This I believe is the essence of a photograph."-Michael Muller
Raised in Northern California by Thomas and Janeice Muller, Michael spent much of his youth traveling to more than forty five different countries due to his family's move to Saudi Arabia where his father over saw the building of Jubail. It was here that he was first inspired to pick up a camera after he saw the joy that his father derived from taking pictures.
After returning back to the United States; Michael at the age of fifteen began photographing the sport of snowboarding. Within a year, he saw his first photographs published.
With little documented photographic experience, he was accepted into the Otis Parsons School of Design with advanced placement. After one short semester he found himself an art school dropout.
Michael then embarked on a journey of self-education. By the time he was twenty-two, running on talent alone, he began photographing some of the most prestigious names in the entertainment and fashion industry.
His work has graced the covers and pages of magazines including: Vanity Fair, Elle, Rolling Stone, Harper's Bazaar, Flaunt, The New York Times, Espn, Filter, Esquire, Interview and Time Magazine.
Michael has worked on campaigns for SPEEDO, NIKE, BILLABONG, DITA EYEWEAR, RANGE ROVER, DODGE, FILA, and VON ZIPPER. He also just finished an extensive Scuba Expedition in The Galapagos Islands for the Swiss watchmaker IWC that is going to help support The Charles Darwin Foundation and UNESCO. Michael just currently documented MARVEL Studios first film IRONMAN as well as X-MEN ORIGINS WOLVERINE, HANCOCK, MAX PAYNE, ENTOURAGE, 24, CRASH, THE BEAST as well as many other film and television projects.
The closest project to Michael's heart is his new Charity called KIDS CLICKING KIDS, which he started with the ART OF ELYSIUM. KCK brings photography into hospitals to a variety of children, many who have never taken a photograph in their life. "Watching children smile and laugh while in such pain from taking photos is an experience that supercedes any that come to mind" says Muller.
After more than a decade and a half of living, traveling, and working in Los Angeles, New York, and Paris, at the age of thirty eight, Michael once again calls Los Angeles his home. Michael is married with 3 daughters.
Michael's unique; signature style speaks for itself. His passion for the art and commerce of photography can easily be felt by simply looking at his pictures.
"When people view my work, I simply want to evoke emotion."- M. Muller
++
Micheal Muller